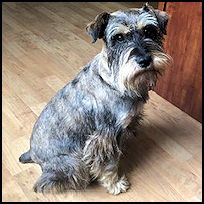 What constitutes a buddy? A buddy can be a friend, confidant, companion, pal, or a chum. Canine Buddy will be all of those to his adoptive human(s). Buddy is fostered in North Carolina. If after reading Buddy's Bio you can meet Buddy's needs, fill out an adoption application at www.schnauzerloverescue.net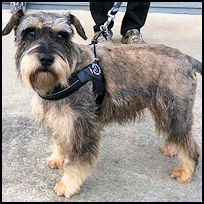 Buddy is a 2-year-old, neutered male Schnauzer mix with some shedding. He weighs 30 lbs. and looks more like a small Standard Schnauzer. He is salt and pepper with interesting pale brownish calico coloring. Buddy has natural ears and a docked tail. He is up to date with his shots and does pretty well with house training but needs consistent potty breaks. Buddy was rescued from a shelter. But you wouldn't need to tell Buddy that. He already knows he hit paydirt coming to SLR and that some special human will be adopting him soon.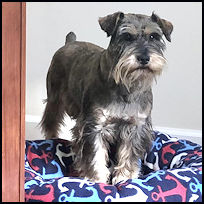 Since Buddy shows alpha tendencies, he must be the only dog. Buddy requires to have an adult only home and his human(s) need to be homebodies.
Buddy is very energetic and needs his adopter to play with him and walk him several times a day (he walks beautifully on a leash). A fenced yard is a must for this active canine.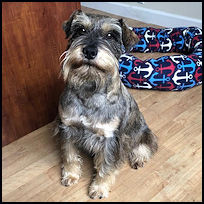 Buddy rides in a vehicle well, sleeps on a dog bed, and likes to play with dog toys. He will bark if he hears noises or the doorbell (he doesn't like loud noises). He has learned the SIT command and seems to respond well to training.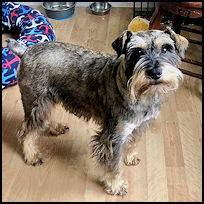 Buddy has been eating well at his fosters home on a diet of kibble with cooked chicken or beef with an added supplement for health. And, it shows how active he is. He eats twice a day along with homemade dog biscuits as a snack.


Why not Buddy Up with Buddy. You can't ask for a better pal!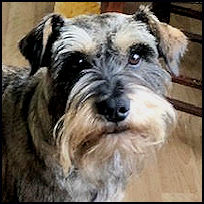 If you have submitted an application and had your interview, email kathleengerry@gmail.com for more information or contact your states interviewer and request Buddy.