The color Blue, represents both the sky and the sea, and is associated with sensitivity, trust and loyalty. Blue calls to mind feelings of calmness or serenity.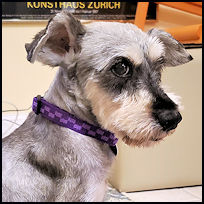 Meet 'SLR' Blue. He is being fostered in Florida. If you are interested in knowing more about Blue after reading his biography, please complete an adoption application on the SLR web site and enter Blue as the brave, gentleman you would like to provide a forever home to. If you have already had your interview, the foster mom will contact you to answer any additional questions you may have.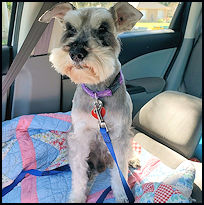 Blue is Salt & Pepper and weighs 14 lbs. He is 13 years young, and has natural ears and a docked tail. He is house trained and leash trained - no crating for him! Of course he is neutered and up-to-date on all of his shots. Blue was trained by his previous owner not to enter the kitchen area. He continues to follow that rule in his foster home. He will sit just beyond the first cabinet and watch from that vantage point. Blue will be best in an adult home only and as an only dog as he enjoys bonding with his human.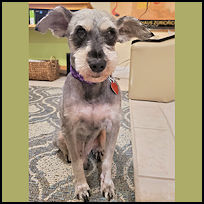 Brave Blue receives fluids twice a week for a kidney condition. He is so gentle and trusting that he just lies down as the foster gives him his fluids. Blue loves to go for walks (turns into a 3 year old) and is working on his socialization skills when another canine comes into view. He is learning that he does not have to be concerned and bark at all dogs. He is enjoying visiting a dog park at times but picks and chooses who his friends will be.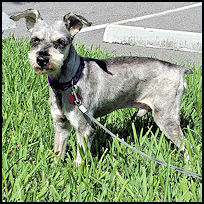 Blue is a pleasant and an extremely gentle Miniature Schnauzer. He especially loves his treat of apple pieces – peeled of course! He loves taking car rides and when he sees you putting on your shoes, he will be at the door in a flash in the hopes he is going with you. A fenced-in yard would be a plus for Blue but is not mandatory as long as he is walked several times a day.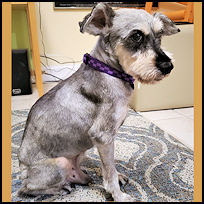 Big-Hearted Blue would love a forever home with someone who will care for him, take him for walks to enjoy the various fragrances, and who will share pieces of an apple. If you feel you are the Forever Home that Blue so deserves, please complete an adoption application and enter 'Blue' as the lovely gentleman you are interested in. If you have an active application, please e-mail jamosher@bellsouth.net


Song Sung Blue
Everybody Knows One