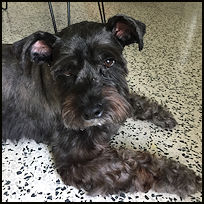 'Mack' is being fostered by Donna in Venice, FL. Once you have gone through the process of an application and phone interview, you may contact his foster mom at kirkdonna@ymail.com for more information.
Mr. Mack is a gentle, 7 years old, black male. Mack's original owner had to move into assisted living and could not take him. He has natural ears, a docked tail and tips the scale at 38 lbs. He is up-to-date on all of his vaccinations. He has had a dental and no teeth needed to be extracted. At this time, Mack is being bathed a few times a week with a medicated shampoo to get his beautiful black fur into a healthy condition.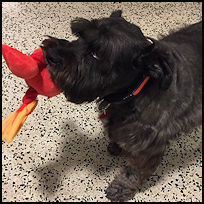 Mack is on a strict diet. It seems his owner fed him a few too many times during the day. Mack is slowly losing weight as he is on quality food and only being fed twice a day. Mack loves to eat but does not love to take walks. Thus, the weight is coming off slowly. When he first arrived at his foster mom's house, he would walk at a leisurely pace in the backyard. After losing a few pounds, he is now trotting along side the foster's dog as she tries to get him to play. Mack does love to play with toys whether he is outside or inside.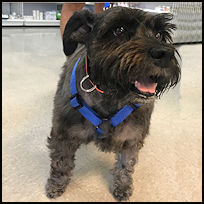 Mr. Mack is super friendly to everyone he meets. He needs another dog in the household to keep him active so the weight continues to come off. He has already developed some muscle in his legs. He definitely needs a fenced-in yard as the brakes come on when attempting to go out the door for a walk. Hopefully, as he loses more weight, he will feel more comfortable with taking walks in his neighborhood.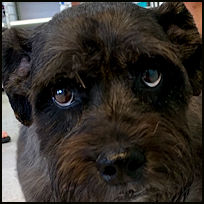 Mack is a 'talker.' We just wish he would share the details of his past journey with us. He definitely has a story to tell. Mack is finding joy in the simple things in life these days. If you feel that Mack is the Schnauzer for you, please complete an SLR Adoption Application and enter 'Mr. Mack' as the hefty boy you would like to provide a forever home to.