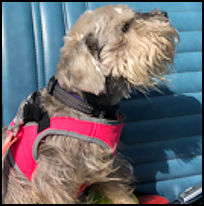 Silvie is currently fostered in Tallahassee Fl. If you read her bio and think she would be the perfect fit for your family, please fill out an application and ask for 'Silvie in Tallahassee, FLorida. After your phone interview you may contact me for more information at sstreukens@yahoo.com.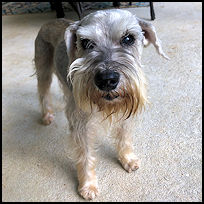 Silvie came to SLR after the Escambia County Shelter was unsuccessful on locating her owner. Our vet has estimated her age to be somewhere around 10-12 year young. She is spayed, heart worm negative and current on all her shots. She weighs around 16 pounds.
Silvie is salt and pepper in color, with natural ears and a docked tail. With her age she has acquired cataracts in both eyes and has lost her front teeth. However, it does not hinder her ability to see nor her ability to eat. She has a very good appetite.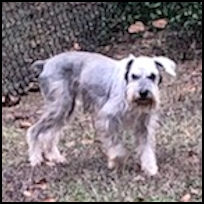 Silvie is a calm, sweet, senior gal who, for the most part, is very quiet. Occasionally she will talk to you when she thinks you should be fixing her dinner, and she will also bark when we leave for work, but she is not an incessant barker.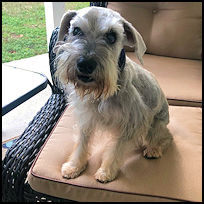 Silvie would do best in a home with a fenced yard and a doggie-door. The family she stayed with until she could be transported to Tallahassee, had both and she let herself out to potty whenever she needed to go. We do not have a doggie-door, and need to kennel her when we are away from home. She is not a fan of being kenneled nor is she kennel trained. If her new family was home mostly to let her out the doggie door would not be needed.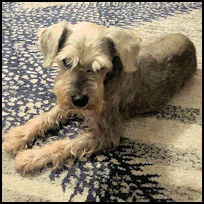 She gets along great with our other dogs, but she is not interested in dog toys but does enjoy an occasional safe chew bone. She walks really well with a harness and leash and she loves the mile walk we do every evening. She has also shown a love for the out doors.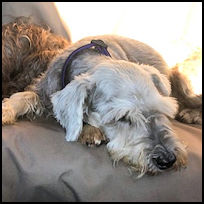 Silvie loves to be where her people are. She will curl up on the kitchen floor when I fix dinner or at my feet when I work on the computer. But her favorite place is to curl up in her own bed.
She does not jump on the furniture, but if you pick her up to be next to you she will stick by your side. She joined our family on a trip to NC and did real well riding in the car with our other 2 dogs.


She would do fine with other dogs or as an only child. Please consider adding sweet girl to your family.