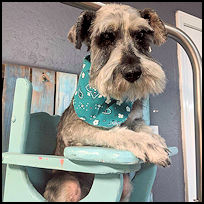 Merle is being fostered in TN. After you read thru Merle's bio and feel that he might be the right addition for your family, please fill out an application and enter Merle as the dog you are interested in. After you have gone through the application process and a phone interview, the foster will determine if he is the correct dog for you.
Meet 'Merle, the Magician!' He will melt your heart with his magical ways. Merle is a sweet, loving, 8 years old, black & silver male. He has natural ears, a docked tail and weighs 18 lbs. He is neutered and up-to-date on all of his vaccinations. He is house, crate and leash trained. It is hard to believe that this lovable boy was rescued from a shelter.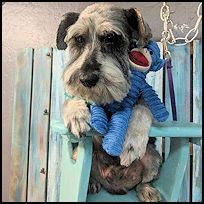 Merle LOVES women. He loves to sleep in your lap and cuddle up with you. He is also great with middle-aged children. Merle is very timid with men almost to the point of being fearful. It will just take time for him to realize that the male in the home will care for and love him just as much as the mom. Merle needs to be an only dog (no felines either). He does not like to share 'his people' as he craves all of your attention.
Magical Merle received a clean bill of health. He is not a barker and LOVES to prance on a leash during all of his walks throughout the day. He does not need a fenced-in-yard but that would not stop him from choosing you for his forever family as long as you walked him during the day. Merle also enjoys his car rides – each ride is a magical journey for him.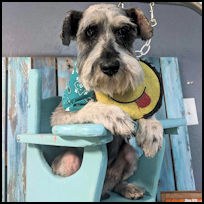 If you are interested in having a sweet, cuddly Schnauzer be part of your family, then Merle is the boy for you. When completing your SLR Adoption Application, enter Merle as the magical dog you are interested in!