Chloe is currently being fostered in Brentwood TN. If you read her bio and think she would be the perfect fit for your family, please fill out an application and ask for 'Chloe in Brentwood'. After your phone interview you may contact me at tnjohnson722@gmail.com.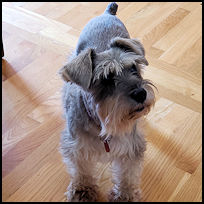 Chloe came to SLR via owner surrender. She is a mature girl at 11 years young. Chloe is silver and gray in color, with natural ears and a docked tail. Chloe is spayed, heart worm negative, current on all her shots and weighs around 19 pounds. Chloe has a good appetite and does love her food. If you're a little late with her dinner or if her water bowl is empty, she begins chirping like a little bird to remind you. Lately she has added a bit of dancing also once she sees that you know its meal time. Did I mention that she loves her food? Despite her admiration for food, Chloe is not food aggressive.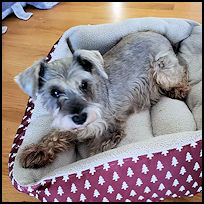 Chloe enjoys her walks, is great on a leash and wants to say hello to every dog and their people that we meet along the way. She is good even with the babies with a little sniff but no mouth to mouth contact that worries mommies. Chloe would be fine in a home with other dogs or as an only dog. Chloe is housebroken and has not had any accidents. I have never felt the need to crate Chloe and have left her with free roam of the house for several hours at a time.


Chloe is not a snuggler or cuddler but she loves to be wherever her people are. She will follow you room to room or will sit next to you but she doesn't get on the furniture. She loves to sleep in her own bed as long as it's close to yours. And she loves head, back and tummy rubs. Chloe likes to ride in the car especially if she can sit in front of an air vent. And she loves to lay in front of the air vent at home too!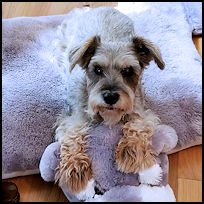 Chloe is on medication for her heart and for seizures but I'm happy to report that since she has been on her medication she hasn't had any problems. Chloe will need a family that will commit to regularly giving her all of her current medications. However, if you put them in a pill pocket or even just a bit of bread, she will gobble them down. Chloe also needs regular potty breaks due to one of her medications being a diuretic so she will need a family that won't need to leave her alone for extended periods of time. Chloe also has some hearing loss.


This little girl is a real jewel and even with some under control medical issues she is not to be passed up. Any family that gets her will be rewarded. Chloe is a true sweetie, so you better be ready to fall in love with this little girl!