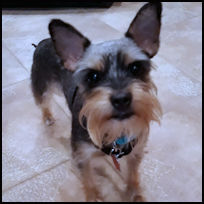 Suzie Q is an adorable Schnauzer mix most likely Yorkie. The vet said that would make her a Snorkie. She is being fostered near Myrtle Beach SC. After submitting your application, and after you have had your phone interview, please email her foster family at dcbopp@sccoast.net for more information.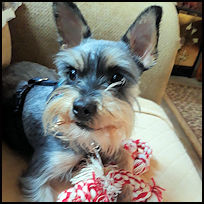 Suzie Q estimated is 1.5-2 years old and could be even younger because she has a whole lot of puppy antics/energy going on. Suzie Q is spayed and up-to date on her vaccines. She has natural ears and tail, only 10 lbs. and is salt and pepper in color. She is very smart and began responding to her name in only five days. Susie Q is active and fast. She will need a fenced in yard and a home with gates before the doors to help prevent a quick escape. She has learned the word "no" and "get back" when we go in and out of doors and most of the time listens but continued training is a must since she is still very young. Suzie Q is so playful that she sometimes looks at you like I'm not going to listen and wants to walk right out with you. Because of her size, fencing will need to not allow her trim ten pound little body to get through. Also because of her size she needs supervised at all times even when in a confined area. She is perfect prey for hawks and coyotes. Susie Q is very curious and will get into things on the floor. She got into her foster moms purse and pulled out her sunglass case and a small bottle of Excedrin! That was it for the purse on the floor. She's mischievously playful and very entertaining but sweet and cuddly too. Suzie Q will make the right people a marvelous pet. She is so full of personality it will be hard for her foster to let her go.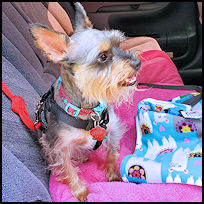 Suzie Q loves to be held and snuggled and would love to sleep with her owner(s) but if she must resort to a soft sided (not wire) crate she will. She LOVES other dogs and tries to play with all of them, and we mean all of them at one time. Suzie Q runs up and playfully nips at their ears, hind legs, does a gentle body rub to say hey let's play. She has taken on two (her foster home has 4 dogs) of the Schnauzers at the same time exhausting them a couple times a day. They love her so much. They are 5 and 8 years old. Suzie Q would need to be in a household with another playful, gentle and close in size pet. She really gives our dogs well needed workout. Suzie Q loves to play with humans too. For 10 pounds she plays a rough and tough tug of war and fetch. She will fetch and never give up. She needs a timeout at times like a young child to give her a rest. Suzie Q loves her food and will dance on her hind legs and flex her front paws in the air telling you to please hurry up. She's hoping that her new owner will continue with the healthy food that she is getting topped with chicken breast meat. She is thriving and building muscle from her diet.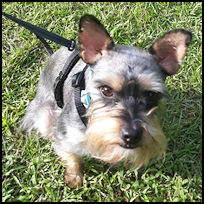 Suzie Q would not be good with small children. She plays with humans like she plays with her foster dog friends. She is still in a biting, nipping phase where she thinks hands can be played with and chewed on like toys. Her foster parents are working with her on this and she is getting better and realizing that her teeth do hurt. Continuing to work with her will be necessary until she out grows and learns that it is not okay to bite humans even when only playing.

Suzie Q loves to travel in any vehicle and going to the vets doesn't faze her one bit. She's not scared of anything. So she will need to be guarded from animals that might not like her touchy feely type personality. She's an adorable, big personality small dog that wants to always please her human. Suzie Q had one potty accident when she first came into her foster home but once she was on a schedule she has not had another one. Her foster mom would say she is 99.9% housebroken.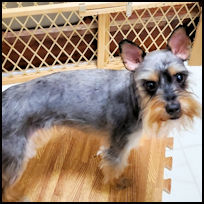 If you are interested in this most precious half pint please fill out an application with SLR and ask for Suzie Q.