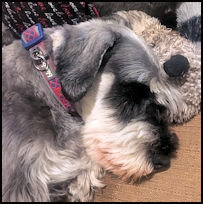 Sam and Sophie are being fostered in Franklin, TN by Debbie and Kevin Tilbury. Once you have been approved to adopt, you can contact them at datilbury@gmail.com.


Sam and Sophie are 6 year old salt and pepper litter mates with natural ears and docked tails. They are a bonded pair and would like to stay together. They are healthy schnauzers, who have been altered, are current on vaccines and preventatives and are heart worm negative.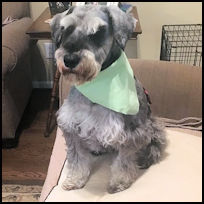 Sam and Sophie are MAJOR love bugs! They want nothing more than to snuggle up and love on you, so if you want a pair of lap dogs, these babies will not disappoint. Sophie loves squeaky toys like no dog I've seen, and will actually play fetch! She will chase a squeaky toy for as long as you will throw it...and when you are done, she will carry the toy with her everywhere. She also enjoys snacks and and snuggles. Sam likes to chase toys, but doesn't really show any other interest other than that. He enjoys leaping around the yard, eating snacks, and laying in your lap. They both get excited about taking walks. They are great leash walkers and it is easy to walk them both at the same time. They even do well when we stop to talk to other people and their dogs. They ride well in the car, and even though they are perfectly content staying home and watch tv with you, they are always up for an adventure!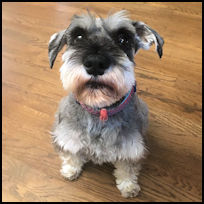 Sam and Sophie absolutely love lounging around the house, but do really well in a crate also. I usually crate them together and they just cuddle up and fall asleep. They've been sleeping in a crate at night also and typically prefer to climb in the same one (it is spacious), but have also sleep in separate crates (near each other) a few times and did just fine. I'm guessing they would be overjoyed to snuggle with you in the human bed, if you are so inclined!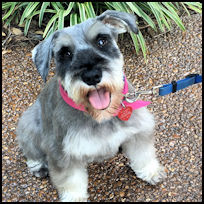 Sam and Sophie are both potty trained. However, Sam and my boy (who is also potty trained) have been marking a little bit in my home. Consequently, Sam and Sophie need to be the only dogs in their new home. While here, I've had Sam wear a belly band as a precaution, but I feel that if he is the only male dog in the home there won't be an issue. They will also do best in a home without young children, as Sophie can be a little nippy when startled. She's not a biter, but will giving a little warning nip if she is startled.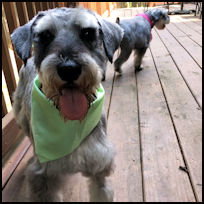 Sam and Sophie are ready for their forever home, so if you are ready to experience twice the schnauzer love and double the fun, get your application in today!