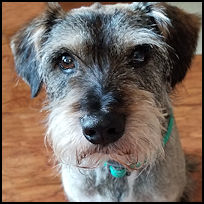 I'm Leroy, an 8-9 year old Schnauzer mix male being fostered in the NE Atlanta, GA area. If you are interested in me, you can contact my foster Mom Donna after you have your phone interview. Her email address is donnaarlis@aol.com
Hi. My name is Leroy--originally Leroy Brown but we've dropped the Brown since it may have bad connotations for some folks.I found my way to SLR after I was picked up by the doggie law several months ago for loitering and I spent about 2 months in lockup until I was released into a halfway (foster) house back in May.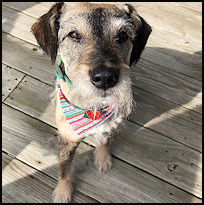 I've got the RooRoo's and all the other characteristics of a typical schnauzer. I do shed a little bit but, my foster mom cannot tolerate "shedders," and I've not bothered her allergies at all. I've been "fixed," and my hair is salt and pepper with brown mixed in for good measure.There is a little more of me to love at 25#--probably the "Mix" part of me.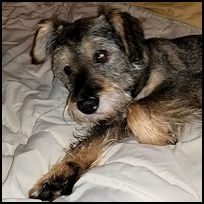 I am house-broken and leash trained and recently trained to go into my X-pen next to my foster sister and 2 brothers when my foster Mom and Dad have to leave the house. I will sit , stay and come on command. I get along well with my fur brother and sisters and even cats. I am a big mush who loves cookies, affection and rubs and gives kisses. I will get in your lap if you let me and would sleep in your bed--but am happy to sleep in my own bed next to yours.

I like exploring the fenced in back yard, going for walks and riding in cars if you want to take me for a spin. I have a little arthritis in my back(maybe from a old injury) so I need a gentle touch. I take joint and salmon oil supplements. I need to be in a home without full-time children and preferably with at least one fur friend. I would do best if not left alone for long periods of time--I get lonesome for human company!!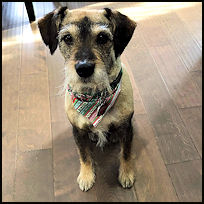 If you think we'd make a good match, please fill out an adoption application and let them know you'd like to learn more about me! I am just waiting to get my foreverhome where I can make my owners smile!