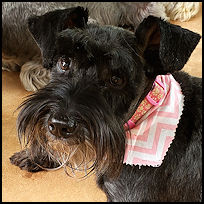 Bridget and Bilbo are being fostered by Beth in Athens AL. Once you have submitted your application and had your phone interview, you may contact Beth at namtipb@msn.com for more information.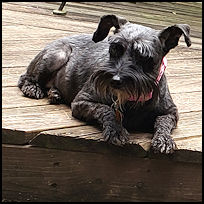 Bridget and BilBo came to SLR when their owner passed away. They are both UTD on vaccines, microchipped and on HW prevention. They have always been together and SLR would love for them to stay that way. If you are looking for a well behaved super sweet squirrel chasing pair of schnauzers, look no further.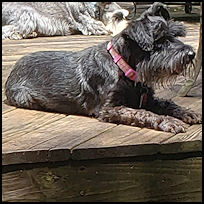 Bridget is a 5 year old spayed black female. She currently weighs 15 pounds. She is house trained,walks well on the leash, and is excellent on cars rides. She gets along with other dogs and kids. We do not know about cats. She slept with her previous owner in the bed, but has adapted well to sleeping in the crate. Bridget doesn't bark much, but will alert you when a visitor has arrived. She loves to give lots of "aroos " when it is time to eat. She does have skin issues that has required medication to keep it under control but is otherwise healthy.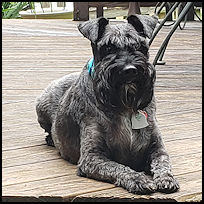 BilBo
is a 4 year old black neutered male. He also is house trained, walks well on the leash, and is excellent on car rides. He is good with other dogs and kids. We do not know about cats with him either. BilBo is on the heavier side weighing in at 29lbs. HIs nick name is Big Love. He seriously is a 29lb lap dog. He too sleeps in a crate and has learned that is his safe place. Like Bridget, he is not much of a barker.
BilBo wants to be everywhere his foster mom is. WHen you try to think of one word to describe him - sweet is an extreme understatement. When he looks you in the eye, you can see all the love in his heart, and it will melt yours.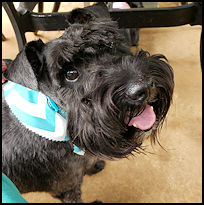 BilBo has had surgery for bladder stones. He will require prescription food (which is only slightly more expensive than regualr food), distilled water ONLY, and close monitoring for any signs of reoccurrence.


If you think that this remarkable pair would make your home complete, please request Bridget and BilBo. They need to be adopted together, but some person or family is going to be happy to have them both.