If you are interested in Gracie, please fill out an adoption application form here on the SLR website. After your phone interview, you may contact Gracie's foster mom, Laura, for more info, by emailing her at Laura.Moondance13@gmail.com.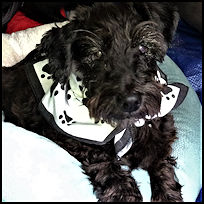 We like to call foster Gracie our diamond in the rough! As a rescue she has some unknowns in her history, but we prefer to look past her history and instead look a little deeper to appreciate all of the wonderful qualities Gracie has to share with anyone open to taking a closer look! Yes, she has milky, blind eyes and a noticeable lipoma sitting high up on her neck. She has some small growths on her head and tail, and her dew claws were never removed. But Gracie has lots of love, affection and personality in abundance. So if that is more important to you than aesthetics, sweet Gracie could well be the perfect dog for you!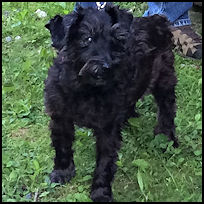 Gracie came into rescue via owner surrender. According to her owner, Gracie has been blind for 2-3 years. The owner was moving and didn't feel that Gracie would adapt well to new surroundings. Well, as Gracie's foster mom, I must say that decision was the owner's loss, but one lucky family's gain! Gracie may be blind, but she gets around well and doesn't let her disability get in her way one bit – this little girl has mucho moxie! She gives a little "bark-bark" signal when she needs something and is very good about letting us know she needs to go outside. Although she doesn't seem to have the best sense of direction (at times she's like a canine pinball machine!), Gracie will follow the sounds of our voices, clapping hands and feet.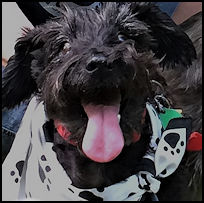 I've found that a stretchy leash works well for Gracie when we go outside or up and down the stairs. YES, Gracie can negotiate steps - even the 15 or so stairs to our basement! You won't have to worry about carrying her; you can just guide her where she needs to go. She loves going for walks, but it's important to keep her on a leash so twigs and branches don't poke her eyes. She would do well off-leash in a fenced back yard where shrubs are at a minimum or are sectioned off from the grassy area. We're trying to get Gracie used to wearing Doggles to protect her eyes; so far, she does not care for them one bit! We're also going to try a "halo" to protect Gracie's eyes when she bumps into things. She is one tough cookie, but I'm hoping the Doggles or Halo will help to keep her eyes safe.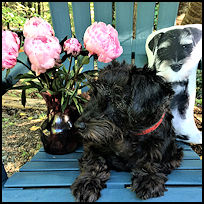 Gracie has a beautiful, soft coat – all black except for sweet little sparkles of white around her eyes! She has short legs, but is a bit of a chunky monkey at 22 pounds. We've had her on a diet and she's lost a pound, but still needs to drop a little more weight. The SLR vet estimated she was about seven years old. Upon coming into rescue, Gracie was spayed, and during this procedure, a mammary tumor was discovered and removed. An x-ray showed no signs that the tumor had spread. Gracie is microchipped, up to date on her vaccines, and is on monthly heartworm and flea/tick preventative, as well as a daily joint supplement. We use artificial tears to keep her eyes moist. She loves her twice daily meals and doesn't seem to feel deprived when we've needed to reduce her portions!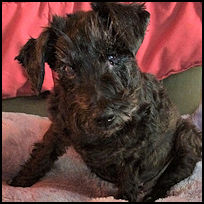 It didn't take long for Gracie to make herself at home with us. She is comfortable sleeping in her own bed at night and also enjoys naptime. She loves meeting new people and is very affectionate, freely giving sweet schnauzer kisses to anyone close by! She adores cuddling on the couch, and will even turn over on her back to make it easier for you to give her belly rubs! The owner surrender info indicated she was good with kids and with cats. Gracie doesn't appear to have an aggressive bone in her body, and from what I've observed, would probably be fine around children, as long as they were supervised and had been taught how to approach and play with a blind dog. Gracie gets along very well with our two dogs, a schnauzer and a black lab. I think she'd like having a companion dog with her, especially if her forever family spends a lot of time away from home during the day. Gracie is great in the car and also loves to travel with us in our motor home. She is a very happy camper!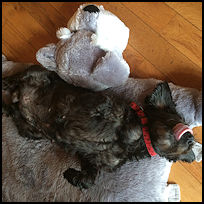 I have read many stories about "foster failures", and have to admit that Gracie could easily become my first! She has loads of personality and is quite a "talker", especially when she first wakes up in the morning, gurgling and murmuring as she squirms around in her bed! Her morning vocalizations help us start each day with smiles on our faces! This jewel of a dog seems to take everything in stride. She is an unassuming, content little girl, enjoying each day as it comes! Having said all of this, however, I know that there is a perfect forever home out there for Gracie, and when she finds it, I'll be able to help another deserving schnauzer have a chance for the good life. (Please remind me of this when it comes time to say goodbye to our funny girl!)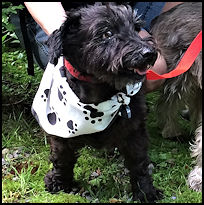 When I heard about a blind schnauzer who needed an SLR foster home, I knew we could help – we have a blind schnauzer of our own! Murphy lost his eyesight two years ago. Cataract surgery wasn't an option for him (and it's not for Gracie, either), and we were overwhelmed and saddened about how Murphy's life would change. But, just as people who know about these things told us, we soon learned that Murphy did better than we did in managing his blindness! These amazing dogs are so resilient, and don't even seem to be aware of their disabilities! With a few changes in our habits (blocking off stairways, keeping dining room table chairs pushed in, not leaving "stuff" sitting out on the floor, etc.), Murphy has had no trouble adapting to his vision loss.
Gracie very quickly adjusted to her new surroundings here with us, and will do so again when she goes to her forever home. SHE doesn't know that she has limitations, and I hope that YOU won't place any limitations on bringing a beautiful schnauzer into your home! Gracie doesn't ask for much, and, believe me when I tell you she will give you more love and affection than you can imagine! There is a sense of fulfillment that comes from bringing a rescue dog into your home, and that feeling is magnified when that rescue is a special needs dog. I suppose Gracie's blindness means she is considered a special needs dog, even though she truly doesn't require much special handling at all!
You've heard the expression "Whoever said diamonds are a girl's best friend never owned a dog". Well, I'm here to tell you, with this little diamond in the rough we call Gracie, you can have both, all wrapped up in one beautiful little package! Think about it, and if you have room in your heart and in your home for this little gem, please put in your adoption application right here on the SLR website and be sure to let the wonderful SLR matchmakers know that you have fallen head over heels for GRACIE!