Chloe is a sweet loving girl and is being fostered in Canton, GA. by Laura. If you are interested in this sweet girl, please fill out an application. You can talk with her foster Mom after you have your interview.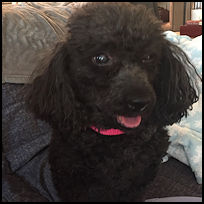 Hi, I'm Chloe, an 8 year old Poodle weighing about 12 lbs. I am a very sweet, happy and affectionate girl. I love my foster mom and usually stay very close to her at all times. I love to be loved on and I give kisses right back as well. I have 3 foster siblings (bichons) that I enjoy hanging around with and being part of the pack. They are teaching me how to be more independent and it is ok to go outside in the fenced in backyard without my foster mom right next to me. In my previous home, there was a very loving mom however I was never comfortable around my dad. Due to health issues of my family as well as for me, it was time for me to find a home that could take care of my life long medical needs (dry left eye) and work with me on some of my insecurities. I have been cautious of men, but am working on my trust issues. I really enjoy being around the young men in the house (17 and 15 y.o. teenage boys – over 6 ft. tall each). Even though I only see them every other week I get more comfortable each time they come to stay.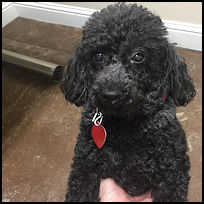 I get along with the other dogs. I'm not food aggressive and I love to be the first one to get my food – otherwise I would try to eat their food but if you call my name I would obey. When my foster mom is at work I stay in a room that is gated from the rest of the house. I have a potty pad that I have used in the past but don't use it often. I am working on being 100% house trained. When I first got to my foster mom's house, she needed to go outside with me, walk on the grass and call my name and tell me to go potty. There are still times she needs to do this for me, like right before bed to make sure I go potty before we retire for the night. I sleep in a dog bed next to my foster mom in her bedroom while the others get to sleep on the bed (it is pretty high up there). I think my foster mom is concerned I might fall off in the middle of the night. I sleep all through the night and I am the first to greet her in the morning when the alarm goes off. I don't jump on the furniture; I wait for you to put me up on the furniture with you. I have learned how to go upstairs without any help (I sort of have some short legs) however I am still trying to learn to go down the stairs, so for now my foster mom carries me down every day.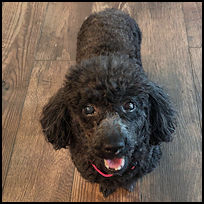 I do have a medical need for my left eye that I will need eye drops for the rest of my life. My foster mom usually gives them to me about 4 times a day; Twice per day of the prescription drops and Twice per day of the artificial tears. I am very good when she gives them to me since it makes me feel better and I can open my eye better when I have them.

I think I would do well as an only dog in the home or with other smaller dogs. I would be perfect for a single person who is home all day wanting to have a companion but I would also be ok with a family with older children. A large fenced yard would be perfect, but I do enjoy walks and don't have to run a lot. I like lying next to my human on the couch and getting belly rubs.

Please fill out an application if you are interested in adopting me. I am waiting to make my new person or family smile.