Albert is being fostered by Mary in Jacksonville, FL. Once you have gone through the process of an application and phone interview, you may contact his foster mom at mt_johnstone@yahoo.com for more information.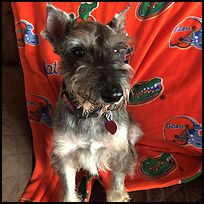 Albert is a sweet, loving 9 years old, dark salt & pepper male. He has cropped ears, a docked tail and weighs 19 lbs. He is neutered and up-to-date on all of his vaccinations. He is house, crate and leash trained. It is hard to believe that this lovable boy was rescued from a shelter. It seemed that Albert had never had a dental. You could tell that his mouth was painful as he did not even want to play with his soft, squeaky toys. Albert had all of his teeth extracted during his dental and is feeling so much better. He now plays with his toys and will hide them so that you cannot find them.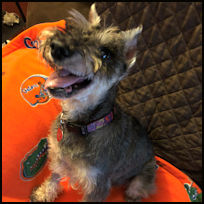 Albert is a quick learner. He has been told, "no in the kitchen." He now lies at the threshold with his little paws crossed watching your every move. Albert will let you know when visitors have arrived or when it is mealtime. A bark or two or three gets the job done! He will dance and jump on his way to the door. Albert has dry eyes like so many dogs these days. He has a drop put in each eye twice a day.
Albert is an Alpha so he needs to be an only dog as he craves all of your attention. He loves to be loved and to cuddle with his human. He needs an adult home only with a fenced-in yard as he loves to run and chase the lizards or basically anything that moves. Albert enjoys taking car rides and can be left alone up to (8) hours.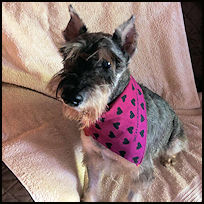 If you are interested in having this sweet, lovable Schnauzer be part of your family, then Albert is the boy for you. When completing your SLR Adoption Application, enter Albert (the dog) not Albert (the UF Mascot) as the great dog you are interested in!