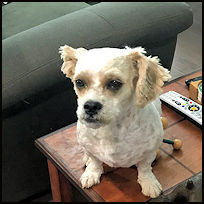 Baby is being fostered in Gainesville, Georgia. If you think he might be the boy for your family, please ask for him on your application and please let your interview erknow you are interested in him. After your phone interview, you can talk with his foster, Mom Donna.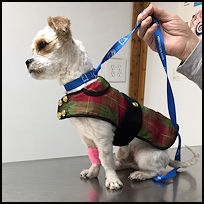 Baby is a 4-5 year old 16 lb. poodle mix. The shelter told the folks who adoptedhim he was a schnoodle, but we don't see much schnauzer in there. He is white with tan and curly hair – he does not shed. The vet says he may be poodle-shih tzu or poodle Havanese. His prior owners had to give up 3 of their dogs due to their health issues. He prefers men over women, but will bond to women as well. Baby is housebroken, plus leash and crate trained. He is a very sweet boy who gets along well with other dogs in the house.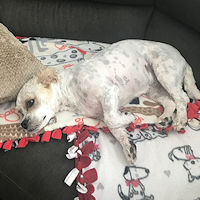 He eats well, loves toys and belly /ear rubs and sleeps in his bed at night. He can be groomed with some anti-anxiety meds on board prior. Baby would do best in a home with a male (and a female too if there is one) who can pay attention to him and at least one other dog for furry company. He absolutely loves men. No children. He would do best in an environment where he is not left alone all day.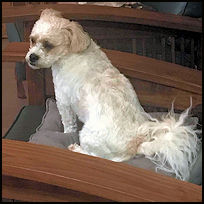 Please fill out your application today and ask for Baby. He is waiting for you.