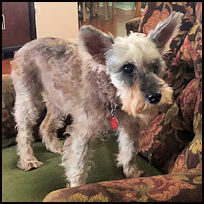 Destiny is being fostered in Ocala, FL. After you have gone through the process of an application and phone interview, you may contact jamosher@bellsouth.net for additional information.
Destiny was turned in to SLR when her owner developed health issues and could no longer afford to take care of her. She is salt & pepper, has natural ears, a docked tail and weighs 14 lbs. Of course she is up-to-date on all of her shots. Destiny is house trained and is learning to walk correctly on a leash. She is 11
years young and is looking forward to celebrating her 12
th
birthday with her new forever family.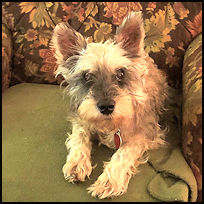 Destiny enjoys riding in a car – even took a quick trip to GA with her foster mom. She prefers to jump in and out of the car on her own. She loves playing with her squeaky toys. She also lived with a cat in her former home. Destiny would do best in an adult only home with someone who is retired. She wants your undivided attention, so no canine siblings for her. Destiny's attitude is, 'What's mine is mine – What's yours is mine.'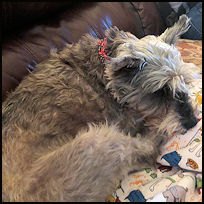 If you are looking for a rescue dog, who is a sweet little princess, a Velcro dog and a lap dog, then Destiny is the girl for you. She will be your best friend. Destiny: "a power that is believed to control what happens in the future." Is SLR Destiny in your future? Please complete an adoption application and list Destiny as the sweet girl you are interested in.