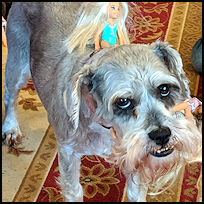 Max is being fostered in the Metro Atlanta area by Mandie. If you read his bio and think you have the right home for him, then please fill out an application and ask for Max in North Atlanta. After you have your phone interview, you can speak with his foster Mom.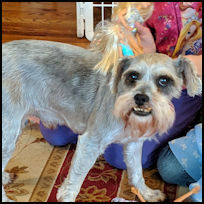 Max was found shivering in the winter rain in Gainesville, Georgia, and was turned over to SLR after attempts to find his owners turned up nothing. Vets estimate that he is about 9 years old, but he is very much a puppy at heart.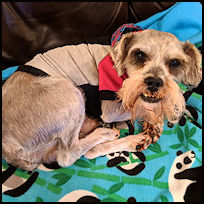 Max is about 16 lbs, with natural ears and a docked tail as well as dew claws. He has been fixed, has had all his shots and is micro chipped. He has also had some initial dental work done. He is the biggest snuggler you will ever meet. He gets up in your lap, lays his head down and just looks at you with the sweetest eyes.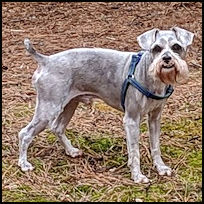 He has gotten along well with the other dog in the house, but he is food aggressive and would possibly do better as an only dog, especially with his lap hogging tendencies. He could be with other dogs as long as the family is willing to separate him at meal times. He also gets along very well with children of all ages as long as food is not involved. He is a huge food thief and will take food out of people's hands. He isn't super careful about his teeth when he does this, so older children who can understand mouthiness and to be careful would be best.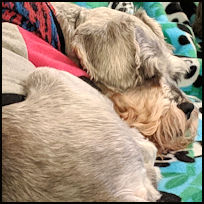 When food is not involved, Max has shown himself to be incredibly tolerant. He has been dressed up, given rides to many toys, been hugged and squished, with no complaints. He walks very well on leash, with no pulling. He is house trained and crate trained. No matter where you are in the house, he will find a way to be right next to you, including at the table. We have been working on breaking the habit, but he has no problem jumping up on chairs right next to you at the kitchen table.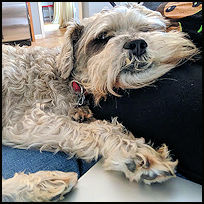 When we got Max, he did not appear to know any commands. We have been working with him to respond to his name and are working on basic commands. The big one we are working on with him is "quiet". He is a barker.
He did not know how to use a doggie door initially and was good at alerting when he wanted to go out, he does know how to use the doggie door now. He enjoys car rides especially as well as soaking up as much sun as possible. He loves to play fetch but he hasn't learned to actually return the ball yet. He also loves toys he can chew on. Max has an extremely happy personality and makes the cutest rawring noise when he's excited.
Max is a very loving, happy dog, who is just waiting for the right family to come along.