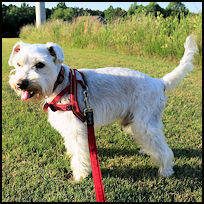 My name is Snowball. As you might guess by my name, I am a white mini-schnauzer weighing in at 14lbs. After you read my bio if you think you might be the perfect fit for me, please fill out an application form and ask for me by name. Once your phone interview is completed, you may contact my foster mom Tammy for more information on me at tcarloss@bellsouth.net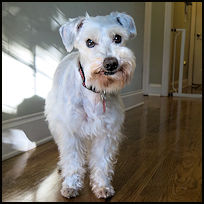 I am a very spry and healthy neutered 12 year old who loves to go for walks and loves lots of petting. My foster mom said I am a really good boy and know my potty manners well and being the gentleman that I am, I have to agree with her. I came to Schnauzer Love Rescue through no fault of my own. My human daddy passed and mom went into a nursing facility, so Schnauzer Love came to the RESCUE (it's what they do you know) and brought me to be with my foster mom.
I love people and I get along well with dogs. I will give you kisses and lay in your lap for a little while. I also like to play with you and toys. I'm pretty active for my age. My favorite thing in the world is to go for walks and explore the world. I take glucosamine for my joints to make sure I stay at my peak activity level and my foster mom says she can really tell the difference when I'm on it. That's the only medicine I do take. I have excellent hearing and my eyes are pretty darn good too. I've had bloodwork done recently with no health issues showing up on it. I think I'm pretty darn healthy.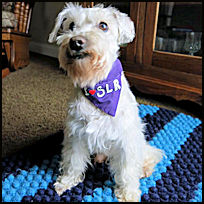 I recently had a dental and am down to only one tooth, but show me the food and just watch it disappear. I eat regular small size dry kibble food. No special food for me.

I ride very well in a car and am happy to ride along with you. I get really excited anytime we head towards the exit door. I know we're either headed for a walk or a car ride. Well, that's about all I can think of to tell you about me.

So if you think you might be the right home for a dog who wants to love and be loved and will be an excellent companion then fill out an application and put my name on it.