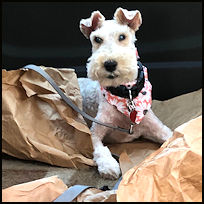 Meet Anna. Anna is a 10 year old Wire Fox Terrier, who weighs about 18 lbs. She is a truly precious and sweet girl. After reading about her, if you might find a place in your home and heart for her, please fill out an application and ask for her by name. After your phone interview, you may contact her foster mom, Pat at schnzrlvr.1@gmail.com .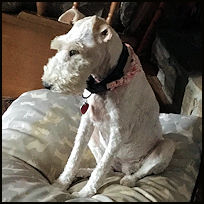 Anna is mostly white but when her hair grows back she has tan markings on her body and ears. She came into SLR after her owner passed away. Poor baby was in pretty dire need of veterinary care from untreated bladder stones and a bad ear infection. In spite of her obvious discomfort she was always sweet and loving, never aggressive even when I knew it was hurting her when cleaning her eas and before her stone surgery. This precious angel is nearly blind from advanced cataracts. She is hearing impaired from her ear issues, but is still an absolute sweetheart of a dog. She asks nothing more than a warm bed, good food, and someone to love her.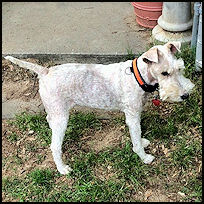 Anna walks well on a leash and gets around fine in spite of her limited vision. She willingly enters her crate at feeding time sometimes without me prompting her. Being brushed is one of her favorite things. All creatures, both two or four legged, are her friends. She is still active and can be very curious in new surroundings.
Please consider making sweet Anna a member of your family; she will show you unconditional love.