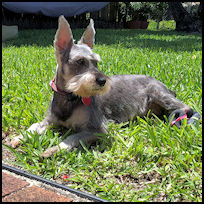 Nube (Spanish for Cloud – Pronounced New-Bay) is being fostered by Beth in Cooper City, FL. Once you have gone through the process of an application and phone interview, you may contact her foster mom at echio84@gmail.com for more information.

Nube is a sweet, 10 years old, salt & pepper female. She has natural ears, a docked tail and weighs 16 lbs. She is spayed and up-to-date on all of her vaccinations. She is house and leash trained. She does not need to be crated. During her dental she only had (5) teeth extracted.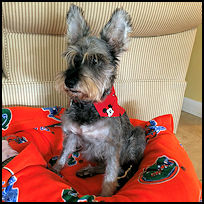 Nube was picked up from a shelter in South FL. We were told she had no health issues. We soon found out that she had bladder stones and a heart murmur. Nube's heart murmur requires no medication at this time as it has been determined through an echocardiogram, that that her condition is from a birth defect. Her foster mom does have her on a heart supplement for a little extra nutrition.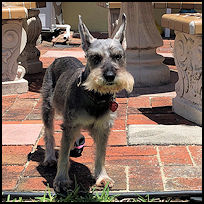 After Nube's bladder stone surgery, her left rear leg was not working properly and she lost all feeling in that foot. At first she would knuckle and walk on the top of her foot. With the aid of sock on the foot and using a rubber band to hold the toe up, her leg has strengthened and she now orients her foot correctly. If she does knuckle, she immediately self corrects.

Nube would do best in an adult home only. She is not an Alpha and gets along with other dogs. Although she absolutely loves her walks in the neighborhood, Nube also enjoys having a fenced-in backyard where she can lay in the warmth of the FL sun. She loves all the adults she meets on her walks and those that visit her foster home. Another one of her favorite past times is to sit with her foster mom and dad on the couch and watch TV.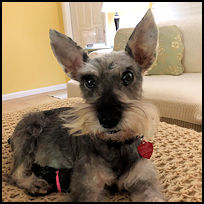 Nube believes that every cloud has a silver lining. Could you be that silver lining? If you are interested in having an adorable, sweet, affectionate Schnauzer be part of your family, then Nube is the lady for you. When completing your SLR Adoption Application, enter Nube as the sweet dog you are interested in.