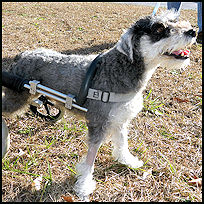 Hamilton is 3 years old and weighs 18 pounds. He is neutered and current on his shots. Unfortunately Hamilton had an FCE, (FibrocartilaginousEmbolism) which is basically a spinal stroke and is paralyzed in his back legs. He has been to the University of Mississippi for an evaluation and has had his diagnosis confirmed. Other than physical therapy, nothing else can be done for him. As you can see in his pictures he has adapted very well to his doggie wheel chair which allow him so much mobility.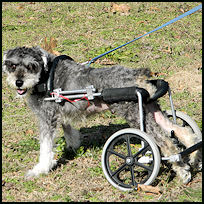 Long story short, he ended up with For Paws Rescue in Newnan, Georgia. However, due to family health issues within the group, they will be relocating most all of their dogs for the time being. They desperately need to get Hamilton adopted or placed with another rescue.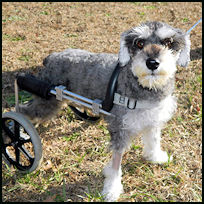 Hamilton does well in his wheelchair and is a handsome and very happy guy. Hamilton needs to have his bladder expressed 4 times daily as he has lost his bladder functions; it's actually quite simple to do. He has started to have some function on his own, but it is unknown if its voluntary or involuntary. He has bowel movements on his own. He needs to be fed separately because he is protective of his food.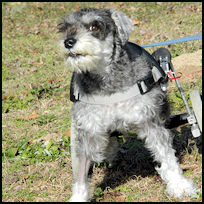 We have a similar special needs dog in our SLR group, Cobb. So if anyone is interested in adopting Hamilton, I am sure Cobb's mom would be happy to assist you with any information you would need. You can contact, Nancy Delf at nandelf@aol.com or Amy Garmon at Amy0274@aol.com if you are interested in more information on adopting Hamilton or doing a rescue to rescue transfer.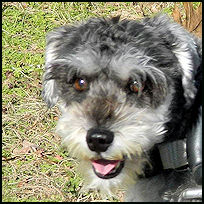 So many people have disabled friends and family, and they are loved and valued. Doesn't this sweet boy deserve that same love? There has to be someone out there with a big heart who would love to take him in. Look at that face. We feel sure he will reward you wil lots of love.