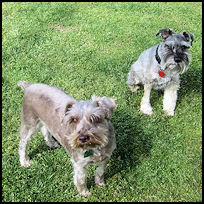 If you are interested in Connor and Rascal, who are a loving, active pair, your first step is to fill out an online application. Then, after your phone interview, you may contact their foster mom, Mims, for more information by emailing her at hunelam@gmail.com .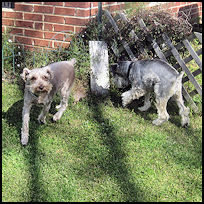 Connor and Rascal come into rescue via an owner surrender. After losing his wife, their dad found, with all his travel for work, he did not have the time to give to the boys and did not feel it was fair to them to leave them alone so much. They came fully vetted and will go to their new home with lots of dog "stuff" - beds, toys, shampoo and even heart worm preventative for another 4 months.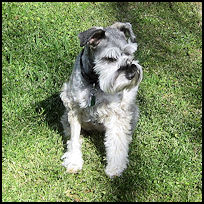 Both boys are neutered and up to date on everything. They have no health issues. Connor is a salt and pepper boy weighing about 20 pounds. His "brother" Rascal is about the same weight and his coloring is described as a light liver color. He has the golden eyes. Rascal is older and definitely the dominant one but they are pretty bonded having been together all their lives so we would like to see them adopted together. They will be turning 5 and 6 in June and April.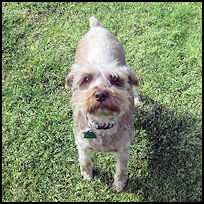 They are house and leash trained. They have had no accident at all. They had the run of the house in their previous home, but have adapted to a smaller area in their foster home because of foster mom's multiple dogs. They get along with the other females in the home and basically ignore them. They are not good with cats. We were told they got along with all dogs and with all people and school age children. There were not children in their previous home, but like all schnauzers they could become protective of family. They would love a fenced yard as they love to run, but could possibly be happy with an active owner or family who would give them lots of exercise. Keeping them on leash, if not confine, is essential as it is with ALL schnauzers.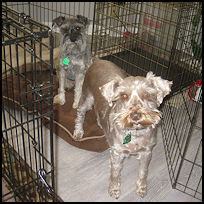 Both boys are affectionate and smart. They listen and are well behaved. Connor is the more playful and excitable one and Rascal is more sensitive. Rascal is a little slower to take up with strangers, but once you earn his trust he wants lots of pets and cuddles. Both boys do a fine jobs of sitting with you while you watch TV or work off your laptop. They eat dry kibble twice a day and get few treats from their mean foster mom. LOL They do like treats though. They are okay for a groom, but Rascal needs patience to learn to accept between groom brushing. It is easier just to keep his fur short. In their previous home, they slept in the bedroom on the floor in their beds. In foster care at bedtime, they share a large crate in the bedroom.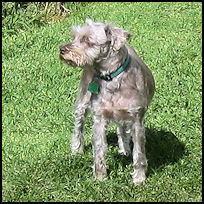 These two boys are going to make some person, couple, or family smile daily. So why not double your love and double your fun by adopting these two handsome, sweet boys instead of just one!