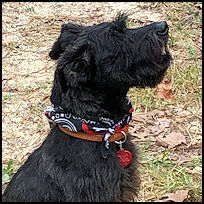 Fritzie is being fostered in Ocala, FL. Once you have gone through the process of an application and phone interview, you may contact his foster mom at ljones11@mac.com for additional information.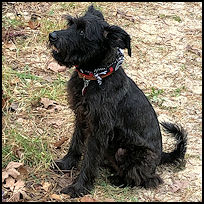 Fritzie is the short form of the German, Frederick – Peaceful Ruler. This handsome black Schnauzer will celebrate his 9th birthday in April. Fritzie weighs 19 lbs, has natural ears and tail. He is up-to-date on all of his shots and is on a monthly heartworm / flea preventative. Fritzie is house / leash / crate trained and rides very nicely in a car. He enjoys playing with toys and is fine with children. He sleeps thru the night - he is just an overall easy going dog.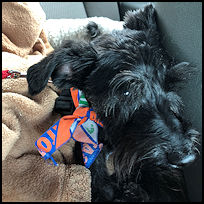 Fritzie is not an Alpha and enjoys being part of a pack so prefers to have another dog as a companion. He is friendly to everyone he meets. Fritzie loves spending time outdoors as he enjoys barking at the neighbor's horses. He enjoys staying busy going in and out on his own during the day, so he MUST have a nice fenced-in yard with a doggie door. Fritzie prances as he walks to showcase that he truly is a 'Peaceful Ruler.'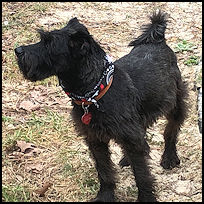 Fritzie's birthday wish is to find a wonderful Forever Family who has another dog as a companion and who has a fenced-in backyard with doggie door access. If you feel you meet Fritzie's needs, please complete an adoption application and list Fritzie as the handsome boy you are interested in.