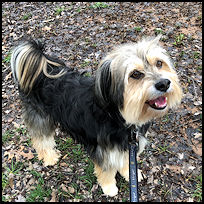 Benji is being fostered in Cumming, Georgia. If you are interesting in him, fill out an online application and them AFTER your phone interview you may contact his foster mom, Nancy, for more information at nandelf@aol.com.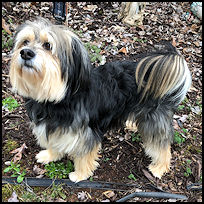 Hey Y'all! I am Benji!! As you have probably noticed, I am not a Schnauzer. I may be some schnauzer; my foster mom thinks maybe Tibetan terrier, but whatever I am I keep hearing the words, stinking cute, so there is probably some of that in my DNA too. I am currently living in Cumming, GA., but that really doesn't matter too much, if you think you want me to live with you, my foster mom and the other SLR people will work with you to get me to you. Please fill out an application first, you have to do that to get the ball rolling before someone else snatches me up!!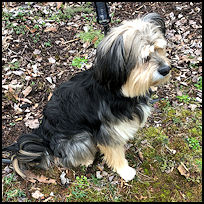 I am around 3 years old, and I came from a shelter. I am very healthy and get along with my other foster siblings very well. I am a laid back guy so I don't push anyone else's buttons. I don't bark like the schnauzers do- wow, do they bark!! No, I am pretty quiet for the most part. I am a little nervous at first, so it is best for me to have someone that is dog experienced. My foster mom has a doggie door, so she just let me hang out a few days until I got settled into the new place before messing with me too much and so when she did I was a really good boy. I let her brush me a little at a time with no problems. My hair does not matte up like the schnauzer hair, at least that is what foster mom says. Now, when she did my "big groom", she put this nose thing on me, she called it a muzzle. I didn't mind it and I just sat still while she brushed all my parts and trimmed me up for glamour shots…I was SO embarrassed!! But I do look marvelous!!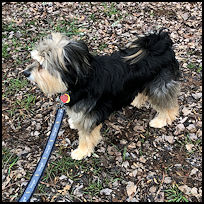 I would probably do okay with older kids, but little kids make me nervous. I would do better with a fenced yard because I am nervous at first but if you are really experienced I may do okay without, my foster mom would just have to talk with you about that. I am very snuggly and love attention. I play with toys, but just by myself. My foster mom tries to play with me but I don't quite know what to do…I just throw them around and play by myself just fine. I will learn one day with practice how to play with people.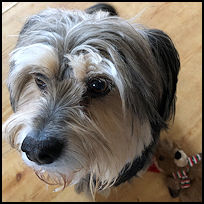 Well, I guess that is about it. If you think you would like me to come live with you as a furever family, please put in an application and mention me - Benji. Thanks for checking me out!! I'm really as awesome as I am handsome.