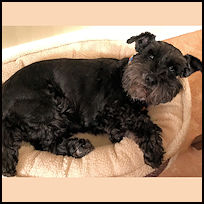 Snoopy is being fostered in Melbourne, FL. Once you have gone through the process of an application and phone interview, you may contact his foster mom at joymorgan1@me.com for more information.
Snoopy will be celebrating his 7th birthday the first of May. This playful, gorgeous, sweet boy has the silkiest jet black fur, weighs 18 lbs. and has natural ears and a docked tail. He is house and leash trained. He likes to take the lead on his walks with the two resident female Schnauzers. Snoopy is fine with children and other dogs. He is not an Alpha. Snoopy is starved for love and affection. He loves to be right next to you while you are on the couch and will carefully crawl over the other dogs to be the closest to you. He loves his belly rubs – he is like a floppy muppet. Snoopy will sleep in his dog bed next to your bed, not budging until you get up in the morning.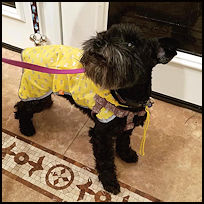 Snoopy has high energy. He would do best in a forever home with a fenced-in yard so he can run and play with another dog to burn off some of his energy. Snoopy is very social and enjoys meeting other dogs and people on his walks. He is always on the lookout for birds, squirrels and basically anything that moves in his territory. If he could just figure out how to climb that tree to get to that squirrel!
Snoopy has a substantial cataract in his left eye and a small one in his right eye. The specialist suspects retinal degeneration in his right eye. Snoopy gets around just fine in his foster mom's home. Further testing can be done to see how fast the degeneration is progressing.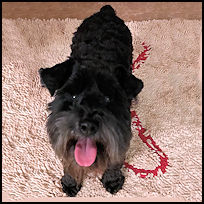 If you are interested in a beautiful, sweet, affectionate Schnauzer to share your home with, then Snoopy is the boy for you. When completing your SLR Adoption Application, enter Snoopy as the sweet dog you are interested in. Charlie Brown, Lucy and the rest of the Gang, thank you!