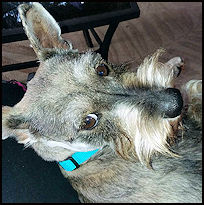 Gus is being fostered in SC. If you are interested in him, please fill out an application online. Then after you have had your phone interview, feel free to contact his foster mom at faisonfarm@gmail.com for more information.


Gus was found by a kind lady who noticed him wandering around. She kept him for a week trying to find his owners. Without luck of finding them, she contacted SLR who took him in and then I became his foster mom.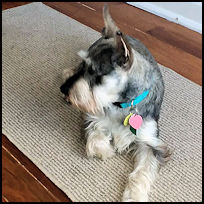 Gus is fully vaccinated. He was neutered and chipped. He is heart worm negative and on heart worm and flea preventative.Gus weighs 17 pounds and is estimated to be about 5 years old. His ears are natural, and his tail is docked. He is a salt and pepper beauty. One of the ladies that met him said he had a beautiful gait.


Now, a word or two from Gus!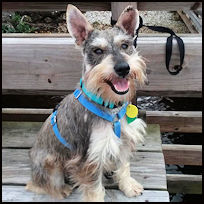 My foster mom says I have come a long way since being rescued by SLR. I like people, dogs, cats, and older children. I love to play with my foster brothers and I try to play with the kitty, but she's not liking my fun personality. I would like a fenced yard - running is one of my favorite activities. I love to ride in the car and going for a walk is my idea of getting my foster mom exercised. I am currently sleeping in a crate, but would be extremely happy to share your bed as I love to snuggle.


We just came back from vacation and I had a wonderful time. Look at my pictures from my trip as well as some pictures of me because I am such a handsome devil!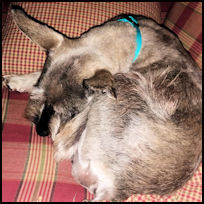 If you take the time to get to know me and work with me, I think you will not be disappointed. I will tell you every time you walk in the door how happy I am to see you, and let's face it, who doesn't need to be reminded how much they are loved!
If you would like this cool beachcomber, sunglasses included, submit your application and request Gus.