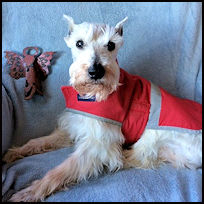 Hi, I am Katie. I am a 13-year old female schnauzer being fostered in Blue Ridge, GA., which for those who don't know is about 100 miles north of Atlanta. Once you have completed your adoption application and your phone interview, you may contact Katie's foster mom, Laura, at Laura.Moondance13@gmail.com for more information.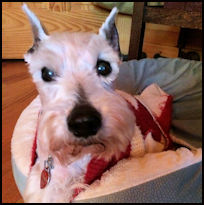 My foster Mom calls me Katie, sometimes Katie Kate. According to my AKC registration papers, my registered name is Karefree Katie. I like that name best - it suits my easy-going personality. Although I am a senior girl, I still feel pretty spunky and I'm excited to greet the world each day!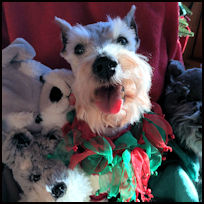 I admit, I do have some aches and pains, especially when I first wake up in the morning. The vet says I have arthritis, and that makes my hips a little wobbly when I get out of bed. So I take my time, and do my leg and back stretches first thing. Stretching makes me feel better, and I think it makes my foster parents feel better, too, because they smile each time they see me stretch! Some mornings, if I'm having a little trouble getting things moving, they will massage my lower back and my hips. That feels sooo good and always helps loosen things up! I take a joint supplement every day, and Rimadyl helps me feel better, too.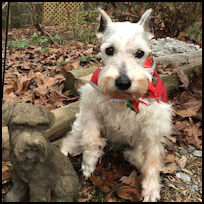 One more thing about aging – my hearing isn't what it used to be in my younger days. But my foster mom tells me that being hard of hearing isn't all bad. She says that thunder and fireworks scare my two fur siblings, but not me! I am also not a barker like they are; I am a very quiet, thoughtful girl.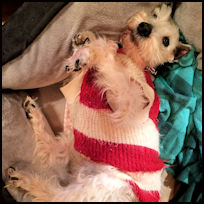 I'm not one to brag, but I don't mind repeating what my foster parents say about me! I am a wonderful traveler in the car. I let them know when I need to go outside, and I am great at walking on a leash. They say that I'm an excellent cuddler, and that my dark eyes are intoxicating! I'm not sure what that means, but they get all melty and give me hugs and kisses, and sometimes, extra treats!
So, what would be on my wish list, you ask? I would love my forever family to be kind and patient, and have time to go on plenty of walks with me, or just sit outside and enjoy the fresh air while I meander around the fenced yard. I love being outside and I hope you do, too! I wouldn't mind a bit if my forever home has other doggies waiting to show me the ropes, but I'd also be content having you all to myself! And if you are a homebody, even better – more time for me to spend with you!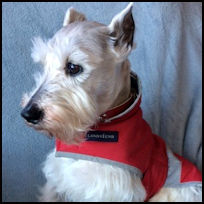 The layout of my forever home is also important to me. Having arthritis means that slick floors and stairs can be difficult for me to manage. I've learned that yoga mats help me get traction on hardwood floors. They put a bounce in my step and give me confidence while I'm doing my laps around the living room! My foster parents put up a ramp at the front steps, but they carry me up and down the basement stairs. I'm a slim girl, at under 16 pounds, so I'm easy to carry.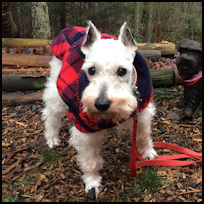 Now that I've shared my wish list with you, I'm wondering what's on YOUR wish list? Wouldn't it be nice if it matched up with mine! My foster mom and I are glass half full kind of girls. So, while it will be sad to part ways, we know that amazing experiences await each of us! If you'd like to join me on my next adventure, please fill out an adoption form and let the SLR matchmakers know that KATIE is at the top of your wish list! I can't wait to meet you!
Love, Karefree Katie