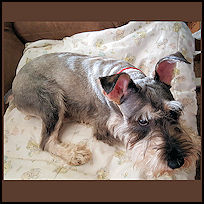 Hi Schnauzer Lovers:
Meet Winston (that's me) !! I am being fostered near Birmingham, AL. If you read the rest of my bio and you have the right home for me (must be Schnauzer experienced, and no children living there or visiting), then please fill out an application and ask for Winston in Alabama.


I am that little bundle of love, mischief, and energy level out the roof, looking back at you. Yes, I am adorable, after all I am a Schnauzer! I am one year old, weigh 20 pounds and I am tireless. My foster parents say I cannot be worn down (which is probably true). I am a very smart, sweet and loving companion to anyone who takes the time and patience to get to know and love me. You will have to earn my trust, but when you do, you will be rewarded in every sense of the word.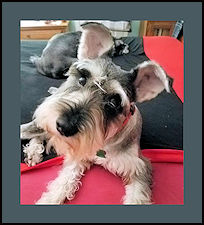 I am house trained, play fetch tirelessly, and I become a couch potato after dark, and will sleep no where except in the bed snuggled up next to you (and I do mean touching). I do not need an invitation, it is automatic with me. I need a fenced in yard as I love to run, and trust me, you cannot begin to keep up. I love other Schnauzers, and I will let them be the dominate force if that is their thing, but if not, I will take over. I really must have a home that has another dog friendly dog. I will do a lot better at bonding if I have a brother or sister to play with. In fact I need a companion to help use up some of this energy.

I also need a home with no children as I play too rough, and prospective parents definitely need to be Schnauzer experienced. If you think you have what it takes to love me and be my forever adopted parents, then give me a try, you won't be disappointed, I promise!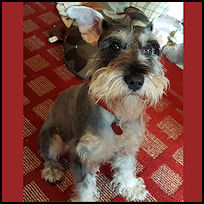 By the way, I might as well confess…I HATE GROOMING !! ..... (bathing tolerated), and...NO CRATES for me please!!