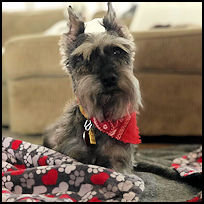 Ruby is being fostered in Deerfield Beach, FL. Once you have gone through the process of an application and phone interview, you may contact her foster mom at catherine.amendola@yahoo.com for more information.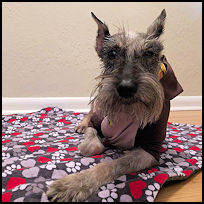 Hard to believe, but this sweet, beautiful lady was found as a stray and turned into a shelter, where SLR stepped in. Ruby was given this name, as a ruby stone signifies love, passion and a zest for life. Ruby has most definitely proven to be a precious jewel. She fit right into the foster mom's pack and acted like she had always lived with them.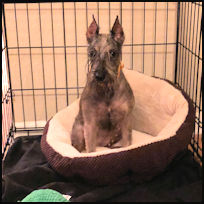 -Ruby's vet approximates her age as 8-10 years young. She is salt & pepper with a dash of brown. Ruby weighs 14 pounds, has a docked tail and cropped ears. She is up-to-date on all her shots and is on a monthly heartworm / flea preventative. Ruby is house / crate / leash trained and loves to ride in a car. She enjoys playing with her squeaky toys and to receive daily belly rubs. Ruby is mild mannered and has such lovely social skills, that she often goes to work with her foster mom where she curls up in her dog bed and waits for everyone to pet her, including young children.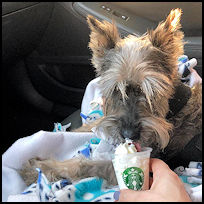 Since being under the loving care of SLR, Ruby has been spayed, received a dental where she lost several teeth (as we know, not unusual for a Schnauzer), had a benign growth removed and is receiving eye drops for her dry eyes. The foster mom states that 'Ruby is one of the sweetest dogs she has ever met. Ruby's forever home must love receiving sweet kisses as much as she enjoys giving them.'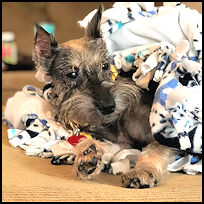 If you are interested in accepting unconditional love, enjoy receiving sweet kisses, and want to offer Ruby a forever home, please complete an adoption application and list Ruby as the sweet jewel you are interested in.