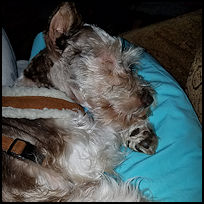 Patty is a 2 yr. old 8 lb. crème and liver colored Schnauzer being fostered in Marietta, Ga. If you think she could be the girl for you, you may contact her foster Mom Renee, AFTER you havehad your interview, at pewtersport1@gmail.com .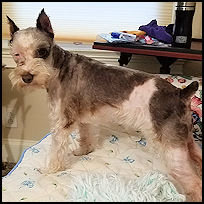 Patty may be tiny in size but she is huge in personality. She is feisty, and very focused on the 20 lb. resident male Schnauzer. She wants his attention all of the time and thrives on playing. She is a very self-confident dog, is house trained. She loves to play chase with other dogs, and loves to wrestle with other dogs. She walks well on a leash, but for her tiny size, she is pretty strong. She is not a big barker unless there is a cat near her yard.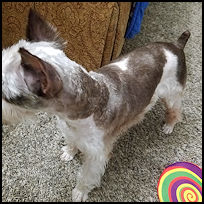 If you pick Patty up and hold her, she will go from running 60 miles an hour around the back yard to immediately being quiet and still. She is fine with a crate she can see out of. She likes toys and may chew on them, but has not chewed on anything else in the house. Patty will do well in a home where she has lots of run to run around safely, so a fenced yard is a must for her. She loves the resident male Schnauzer and will do well in a home where there is another dog as long as that dog is tolerant and patient with her. A Senior dog will not be an ideal companion for her.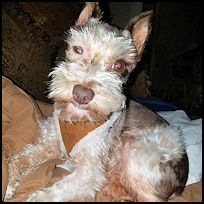 Patty has an underdeveloped right eye that does not tear, so she needs drops in the eye 3 times a day. She is very well behaved for her drops. Whoever adopts Patty MUST keep up her regime of eye drops.

She is funny, and will fill your home with much joy. She likes new games, such as chasing ice chips around on the floor. She loves to sit by the window and watch the neighbors, and likes balls. She is very well adjusted as long as she gets enough exercise, then she will sleep all night and is calm.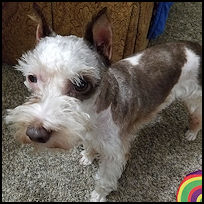 If you think Patty may be the girl for you, and you have a fenced yard, please fill out an application and ask for Patty in Marietta. Her foster Mom has lots of videos showing Patty's personality and will be happy to share with you after you all have talked.