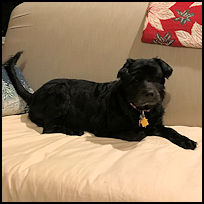 My name is Carson and I'm 37 pounds of tail-wagging L-O-V-E. They think I'm 7 years old and they call me a "Schnoodle" – I have no idea what that means. I am being fostered in the metro Atlanta area. If you think I may be the boy you are looking for, you may contact my foster Mom or Dad AFTER you have your interview at ginaplaughlin@gmail.com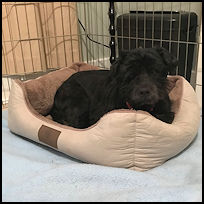 I'm just a guy who has his priorities straight. I'm a gentle soul who wants someone to love me and feed me, mostly in that order. I'm very easygoing otherwise. I get along with other dogs; there was even a cat in my foster home. And I have a four-year-old human brother so I'm used to a lot of screaming, running and toys hitting the floor with little notice. It's all good. I walk very well on a leash. Or if you have a doggie door into a fenced yard I know how that works too. I ride quietly in the car. I have the best manners when meeting new people.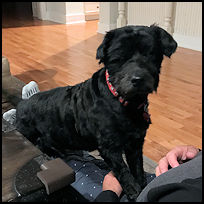 Want to know my biggest trick? I do all of the above and I'm completely blind. Don't let that scare you. My foster mom has never had a blind dog and she has been so impressed with how smart I am and how fast I settled in. Within a day I mastered the stairs and found my bed and the couch! It also means I'm not one of those "wild" schnauzers you hear about. I don't run around the house barking; I'm a gentleman.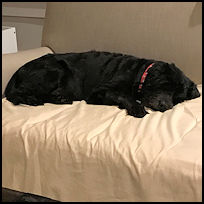 I need an over-the-counter eye drop each day to help my dry eye. And treats. Did I mention I'd like treats every day too?
I hope you'll consider opening your heart and your home to me. I've got so much love to give in return. Please fill out an application and don't forget to ask for Carson in Georgia.