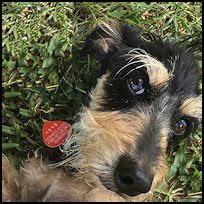 Hi-hi-hi!!! My name is Sunny, and you're going to LOVE me! I am the best in everything I do… I can run super fast, throw and catch my own toys, and I am a snuggling master. The only thing I don't have going for me is my "furever" family. I'm still waiting, but waiting patiently. Maybe you are looking for me? Once you have filled out your application and had your interview, you may contact my foster Mom Amy at amy.dooley1990@gmail.com.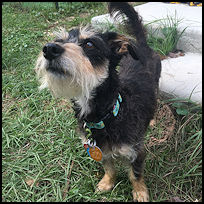 I'm black and tan, and I am about 11 pounds and 4 years old the vet tells me… I am a daschund/schnauzer mix with a natural mohawk, which gives you just a taste into my rockin' personality. A little secret… my tail is wagging so hard right now just thinking about you. I am being fostered in the Florida panhandle.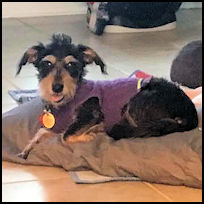 Like most rescue pups, I have a little baggage. Don't worry, it's not a deal-breaker! I was underweight and had an untreated UTI and bladder stones a little while back… even had my foster parents thinking I didn't like to play...but boy were they surprised when I healed up from my surgery and BOOM! FULL ON SUNNY BUNS, HERE I COME! Living pain free and eating my SO Royal Canine Urinary Health dog food allows me to showcase my joy in everything I do. I love to talk to my family, run in the yard, take walks, snuggle on the couch, snuggle in the bed, snuggle in your lap… really I could snuggle anywhere and with anyone! I love playing fetch with the people that are in my foster home. Due to my activity, I would do best with older children. I also love chasing my furry foster sisters around in the yard. I'm potty trained, follow basic commands, and can use a doggy door!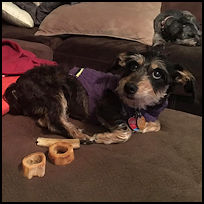 Please fill out an application if I'm the girl you've been looking for! I'm ready to come home with you, meet my new family, and show you just how much I adore you.


P.S. I wear a size XS-SM sweater… I get cold easily. Thanks!!