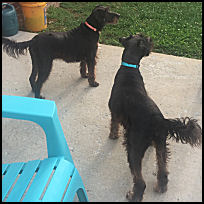 Briscoe and Darlin are being fostered in Cumming, GA. If you are interested in this brother and sister pair, please submit an application and then after your telephone interview you may contact their foster mom for even more information at nandelf@aol.com.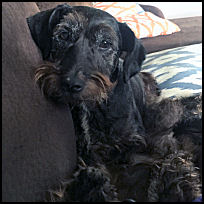 This bonded pair was surrendered over a year ago, they have been shuffled around (through no fault of theirs) and have landed with their current foster mom and will stay here until they are adopted. Briscoe and Darlin are 9 ½ years young, we think they are schnauzer lab mixes and they weigh about 35-40 pounds. Briscoe is a little bigger than Darlin. They both have natural tail and ears. They do shed, seem to blow their coats a couple times a year but don't shed all the time. Both are up to date on shots, heart worm negative and on the preventative and have had dentals. Darlin is spayed and Briscoe is neutered. Their health is excellent.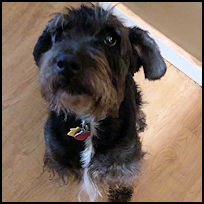 They need to be adopted together. They are okay apart for grooming and such but they have been together their whole lives and we feel it best they stay together. It's not like they panic if they lose sight of each other. They are very outgoing and laid back, they will bark at people first but as soon as you pet them or give them a treat, they are your best friend.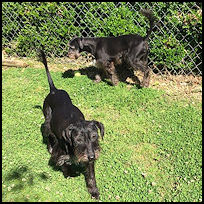 They are house trained, crate trained, and leash trained, but have a doggie door so they are used to that. These are big dogs, they do pull on the leash so that needs a little work. They are excellent for their groom and are easily handled. They love to play and love attention. They love it when you come home and their tails wag so fast you can hardly see them. They are good eaters, they live to eat!! Briscoe will grumble talk to you then entire time he is eating…at first I thought he was growling, but after I got to know him and I was testing him for food aggression, I realized I could put my hand in his bowl, take his food anything, he was just talking! Now, he does not want other dogs around his food. I just stay between him and his sister while they are eating…it only takes a couple minutes!!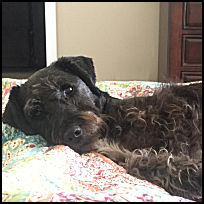 They would make great farm dogs, great protection dogs (alarm is about all haha), and just great loving companions. They love to snuggle and will keep you warm. They are just great dogs that deserve a loving family. I would trust them with kids as long as they are bigger only because they could knock them over. They just want to be loved.