Garbo and Felix are being fostered by Maria in West Palm Beach, FL. If you think Garbo and Felix are the right fit for you, please contact their foster mom directy at dimara4man@yahoo.com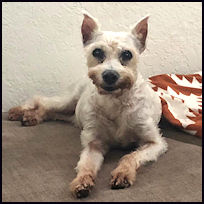 Garbo is around 10 years old, weighs 13 Lbs., has her ears and tails cropped and her coat is beige.
Felix is around 8 years old, weighs 17 Lbs. has his ears and tails cropped and his coat is gray.
Garbo & Felix are up to date on vaccinations, fleas control treatment, grooming and a blood test (all good) was done on Garbo, as she is the older one.

Their former owner had a tough situation after his wife passed in december 2016. After that, one year later another Schnauzer (Coco) that was with Garbo & Felix kept on escaping from the house as the three were left alone often. The same person that kept on receiving Coco when she escaped, is the same person that is fostering us now.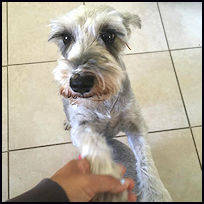 Both Garbo & Felix are very obedient, get along great with kids of all ages and with other dogs. They both are very attentive to their called by responding soon.
While Felix enjoys being out in the yard chasing lizards, Garbo likes playing with the ball. They both are very affectionate and like to play with other dogs.
Garbo is the whistler one, she lets everyone knows when a stranger is around but other than that, she is very quiet. Felix barely barks, if ever

.

SLR is in no way responsible for this cute pair, nor would the adoption happen via SLR.
Anyone interested should deal directly with their foster mom, Maria.