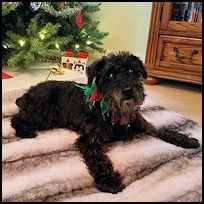 Rufus is being fostered in the Rockledge Area of FL. Once you have gone through the process of an application and phone interview, you may contact his foster mom at leahjean70@gmail.com for more information.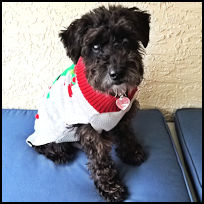 Rufus was surrendered to SLR when his owner could no longer care for him. This handsome, black Sensational Senior just celebrated his 14th birthday! Rufus weighs 23 pounds, has a docked tail and natural ears. He is up-to-date on all his shots and is on a monthly heartworm / flea preventative. Rufus is house / leash trained and LOVES to ride in a car – he travels every day to Grandma's house for dinner.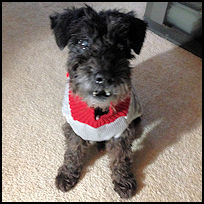 Just like many Senior Schnauzers, Rufus has cataracts. He does see shadows and movement and gets around just fine in his foster mom's home. He is hard of hearing but always seems to hear when the cheese comes out for a treat! Rufus takes a med 1 x day for his heart murmur. He is friendly to everyone he meets. He is not an Alpha and does just fine with other canines and even some felines. He will 'talk' when he sees the leash come out or when he knows it's time to take his daily car ride to Grandma's house.


Rufus would be happiest with a retired single person or couple that may possibly have a fenced in yard as he takes pleasure in all the new scents that each day brings. He also enjoys his daily
walks. Rufus is a very happy and grateful senior that needs a final loving forever home that will appreciate the unconditional love and companionship that he has to give. Don't pass up this Sensational Senior!


If you feel Rufus would be a wonderful addition to your pack, just enter 'Rufus' as the Sensational Senior you are interested in when completing your SLR Adoption Application. We Celebrate Rufus and All Senior Schnauzers!