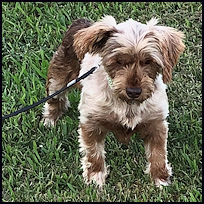 Hi my name is Buster Brown. I am with my foster parents, Tom and Faith in Montevallo Alabama (close to Birmingham). After you fill out an application and have your phone interview you can contact my foster family at fhwhidden@yahoo.com for more additional information.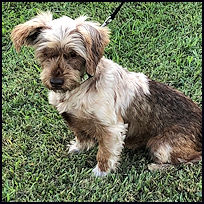 Here at the farm, I have 5 foster brothers and sisters ranging from 2 mini dachshunds to a Dalmatian, as well as 2 inside feline furfriends, 3 outside feline furfriends, some huge horses and a donkey. I am about 8-9 years old. I was brought into SLR with my sister because our parents could no longer take care of us due to their health issues. NOTHING I DID. I weigh about 18 pounds and I am UTD on all my shots. THE VET EVEN SAID I HAVE GOOD TEETH.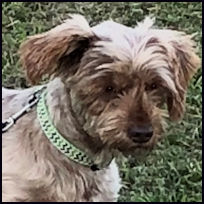 I AM A VERY SWEET YOUNG MAN. I GET ALONG WELL WITH OTHER FUR FRIENDS, DOGS AND CATS OF ALL SIZES. I AM POTTY TRAINED AND CRATE TRAINED. I WALK WELL ON A LEASH.
I AM PLAYFUL, BUT CAN BE CALM TOO. I AM NOT FOND OF THIS THING CALLED ROOMBA, EVEN THOUGH THEY TELL ME IT WONT HURT ME.
I HAVE BEAUTIFUL COLORING THAT IS UNUSUAL FOR A SCHNAUZER. MY FOSTER MOM SAYS IT'S A REGAL COLOR…WHATEVER THAT MEANS.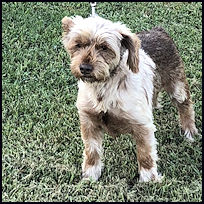 Although I love being at my foster home, I would really love to have a family of my own. One where I can give all my love to my family and they can love me back. I say a prayer for this every night and my foster mom says my prayer will come true one day soon. WILL IT BE YOU….. I SURE HOPE IT WILL BE!!!!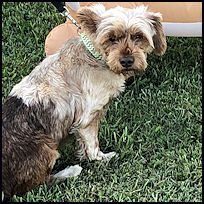 SEE YOU SOON, BUSTER BROWN (BB FOR SHORT).